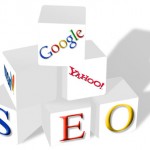 Its been some time since my last post. I am not big on blogging although its a great tool for many things. Things including SEO and internet marketing. I am still about 2 years fresh in the web development world so this area in my career is still new to me. What i do know is that hosting a web site is one thing and all it is is, simply a site hosted. Just like a small business opening in NYC, you started up a business but now what. All you have is your own personal connections and that's just about it. With the right marketing tools you can have a client/customer from across the city, to across the country and depending on the business even around the globe.
Mind you this may be old news which I am highly aware of, however not everyone has the same marketing skills and or techniques. You can do a lot with internet marketing. My personal portfolio website has some simple SEO implemented by just educating myself from my last employer who also specialized in SEO. I may not be on top of the list of "Web Development", "Orlando web development", But "Perez designs" or "Perez development" shows. Not very effective but i think its pretty neat how it works playing with meta tags, titles and keywords strategically. HIGHLY COMPETITIVE.
This blog alone is also a very useful tool in internet marketing if blogging about appropriate topics. Currently, I am still getting more hands on experience with web development basics and growing. Not limited to Graphic Design, SEO and internet marketing strategies, social media, and other fun digital media tools/technology all to become a nice well rounded individual.